Fortune Builders are delighted to announce a major Joint Venture / Investment Opportunity for international investors as part of our growth plans, featuring residential and commercial Projects. Click here to learn more.
Present in the real-estate sector since 1985 we concentrate on apartments, commercial and customized residential projects.
Fortune Builders & Developers aims to provide premium quality homes at an affordable price point. We place customer satisfaction above all else, and work with only the best suppliers and materials to ensure that we deliver homes, not just apartments and houses.
In addition we have considerable experience in the Commercial sector, having designed and delivered exciting properties for World Leading companies looking to set up their operations in Bangalore and its metropolitan region. Our local knowledge and international focus give us the edge and you the best value and service.
Santa Clara Apartments at JayaNagar 9th Block offer you a real chance to make your dream home into reality.
The best specifications and a feature list that will make you happy but your neighbors envious!
There are only a few apartments left, reserve yours quickly!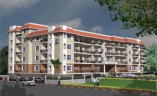 For more information, click here.